How to drive traffic to your business website
Unless you are a large business with a reputation behind you, and the online power that comes with it, getting new business from a website is hard.
Too often we hear from people who have spent money on a shiny new business website, sat back and waited for the phone to ring. But with an estimated 140,000+ new websites launched every day, unless you have a plan to drive website traffic, it just isn't going to happen.
There is no shortcut to driving traffic to your business website. It's a marathon, not a sprint. But if you are willing to play the long game, you'll beat your competition and build a solid foundation for a business that can grow on regular leads.
This guide to driving website traffic lists everything you need to do to start building regular website traffic.
Be aware that paying for ads before you have a decent website with the right content is a sure-fire way to blow your budget and see nothing in return.
If this post is a little too long, you can jump to the areas you are interested in:
Chapter 1
Get a website that works
Before you start doing anything to drive traffic to your website, there is some basic housekeeping that needs to be in place.
If your site loads painfully slowly, doesn't work on a mobile device or has no way for customers to contact you then it is a waste of time and effort.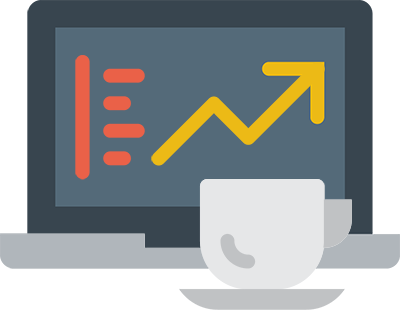 New websites
If you are about to get a first, or a new website, there's a few things you can do to make sure it's working right from day one:
Choose a domain name that doesn't contain hyphens, numbers or weird spellings.
Don't go for the cheapest website host, you'll pay for it in the long run. You want decent speed and support, and the cheaper the host the less likely you'll get either.
Pick a CMS that can grow with you. Yes Wix is easy, but you'll regret it when you need to pay for a whole new website as you've outgrown its features.
If you decide on WordPress, choose a theme that offers support and is widely used. The bigger the development team supporting the theme, the more likely it is future proof and will support you as you get more technical and add more to your website.
If you WordPress website designer, make sure they use a child theme. Child themes allow your designer to include their customisations (think CSS, php, etc.) in a separate file to your main theme. It makes everything update safe and extends the longevity of your website.
Make sure you have an SSL certificate. Let's Encrypt is a free option which will work perfectly well for the average website, and it's offered with good website hosts as an easy installation option. SSL is what gives your website the 'https' instead of 'http' at the beginning of the website address.
Aiming for under two seconds is a good guideline. From a user experience point of view, anything beyond three seconds is going to cause your bounce rate to go through the roof.
This means people will click on your link (from a search engine, social media, an email, etc.), hit your site and close it before it ever has the chance to load, making all of your website traffic efforts pointless.
Website loading speed is also one of the many ranking factors used by Google. If your website is slow, it doesn't mean you won't rank, but it could impact your chances.
The Speed Update has recently been announced by Google on the Webmaster Central blog. Mobile page speed is now being taken in to the ranking algorithm. It's not a time to panic, as unless your site is drastically slow on mobile it's unlikely to be affected.
Mobile friendly
Responsive, mobile first design has been a buzzing industry term for a while. With more and more website visits happening on mobile devices, if your site doesn't display nicely it will harm your bounce rates and repeat visitors.
Google says 61% of users are unlikely to return to a mobile site they had trouble accessing and 40% visit a competitor's site instead. McKinsey & Company
However, it doesn't mean there isn't a place for desktop any more either. A review by Smart Insights reveals that people are using their mobile for checking emails and social media, but for purchases they still tend to get out the trusty computer.
What does this mean in practice? Your blog posts are the main item you'll be posting on social and including in emails. While your heavier product pages are likely to be visited later in the buying process, when somebody is already familiar with your brand. Then, they are likely to be on a computer doing the heavier research before contacting you.
Ultimately, you need a website that behaves well on mobile and desktop to make the most of these different sources of website traffic. We recommend: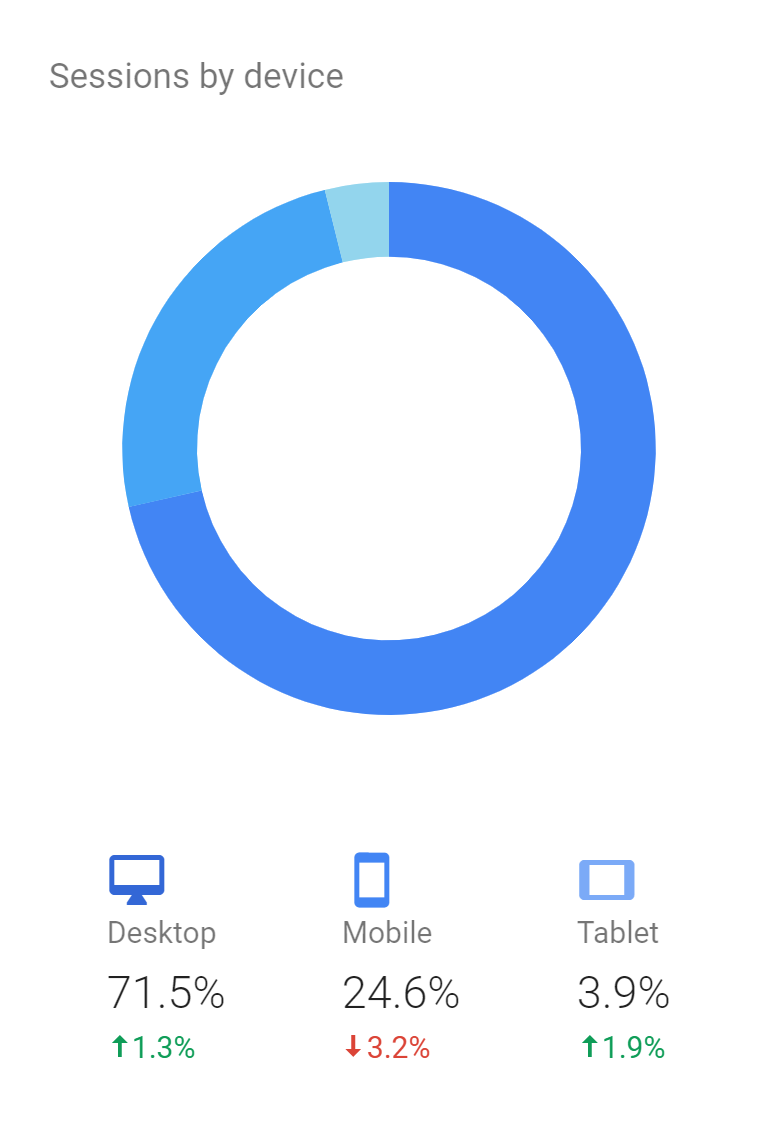 Make sure your font sizes look good on mobile and desktop
Don't forget loading speed. Mobile data can be slow!
Responsive websites can 'turn off' certain content on small screens – get rid of the unnecessary stuff
Test new posts, pages and forms from desktop and mobile
Every industry is different, measure your own web traffic using Google Analytics and optimise accordingly
Every site is unique, and your type of content, chosen social channels, industry and target market will all impact your results. Here at Kabo we write deep dive blog posts and guides.
While the 'norms' suggest we should get higher mobile traffic, we find that over 70% of our blog traffic is from a computer.
We largely put this down to the nature of our blogs – they aren't quick reads on a mobile, they tend to be step-by-step articles that our visitors are more comfortable using on a larger computer screen.
Contact forms
So, you've got a beautiful website? It's optimised on mobile, loads quickly and you are getting visits? Great! Are they converting?
If it isn't easy to contact you from your website, you've completely missed the point. Think of your website as a lead generating machine. The whole point is to convince a website visitor that your product or service is exactly what they are looking for.
Once they've made that decision, you want to make it as easy as possible for them to contact you. That could be by email, telephone or a contact form.
Your telephone and email address can go on your contact page, in your footer and even on the top navigation bar. But your contact forms should be strategically placed at logical conversion points on your website to make it really easy for interested website visitors to convert.
Here's three top tips to improving contact form conversion rates from Unbounce:
Test your button copy. Click Here or Go works better than Submit.
Reduce the number of form fields. The more you have, the less conversions you'll receive.
Having a phone number field can cause a 5% drop in conversions.
Online stats should never be taken for gospel. Phone numbers can drop conversions, but sometimes they are important. A good half way house is to include it, but not make it a required field.
On WordPress? A quick tip – don't use Contact Form 7. It's known to be buggy and have sending issues. There's a lot of great form plugins out there, but personally we are huge fans of Caldera Forms.
One of our favourite features? They include a database, meaning if for some reason a website form fill doesn't reach your inbox, you can still find it in the database. No lost opportunities!
Good copy
John Espirian, the relentlessly helpful technical copywriter, shares his tips on website copy and why it matters.
We all know it's important to get the technical and visual elements of a site right. No one wants a broken shop front with paint peeling off the walls. Those first impressions still count and, with more sites out there than ever before, it pays to grab people's attention.
But we can't stop there. We need substance to back up the style. And that's where it becomes essential to put some care into writing for your intended audience.
Writing clear and consistent content isn't just about SEO. Far from it. Good writing can be the difference between a site that simply looks nice and one that turns visitors into customers and fans.
Remember that most visitors to your site will be there with an intent in mind. They have a question that needs answering, a problem that needs solving, a fear that needs soothing.
Good web copy combines an economy of words with an understanding of the reader's needs, questions, fears and doubts - @espirian
Click To Tweet
Your writing is a chance to form a connection with your readers. It lets you put a virtual arm around the reader's shoulders and say 'hey, it's OK. You're looking for something and we can help. Pull up a chair. You're in the right place.'
Writing that gives the reader that feeling of being in the right place is essential to the success of a site. Speaking the language of the reader and showing that you understand what they care about is the way to get people onside and to encourage them to take the actions that your website was built for. And unless you're a hobbyist, you should treat your whole website as a platform for promoting the actions you want others to take.
My top tip for writing good web copy is to keep in mind the small handful of values and characteristics that define your 'voice', and to ensure that that voice is clear in everything you write.
When your content sounds like you, it will be more consistent, more authentic and, for the right audience, more persuasive. These are the ingredients that will make people want to stick around on your site – and who doesn't want that?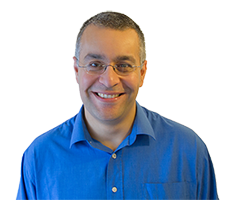 John Espirian
John Espirian is a British freelance technical copywriter and editorial consultant. He specialises in producing simple B2B support content that helps business owners gain and retain customers.
You can find him at espirian.co.uk or @espirian on Twitter.
Measurement
Before you start driving traffic to your site, have you got a measurement tool in place? A simple, free tool like Google Analytics can give you everything you need at the early stages:
Where does your website traffic come from?
What's the bounce rate for each source?
Which traffic source converts the most?
We recommend setting up Google Analytics, Search Console and Tag Manager before you start driving any traffic. We've even got a step-by-step guide to set up contact form conversion measurement using these tools.
Further down the line there are numerous amazing tools you can add to your measurement, such as heat maps and SEO tools – but this can come as you grow. To start just make sure you have essential measurement set up, so you can learn from your efforts.
Chapter 2
Understand your target customer
Building website traffic must be based on the right website visitor.
If you build huge amounts of visitors to your site, but none of them are ever going to buy your product or service, then you will be disappointed with your conversion rate.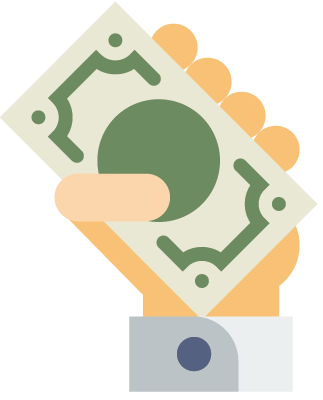 When a business first starts, it can be very difficult to identify your target customer. Your offering is likely to be built around your idea, your skills and your views. Don't let that stop you, or panic you. It is something that grows and changes with time and experience.
The value of understanding your target customer, is that it makes all of the steps below easier. Once you know who you want to reach, you can start writing content that speaks to their pain points and put it in places they are likely to see it.
How do I find my niche?
If your business is not new, but you haven't identified your niche yet, taking half a day to think this through can be very helpful. Ask yourself:
Is there anything that all of my customers have in common?
What is it about my product or service that my customers appreciate the most?
Which customers do I want more of?
Which customers are most profitable?
Is there a segment of customers that are more loyal?
For example, if you run an accountancy firm, you may serve clients in multiple industries with varying business sizes and turnover. By asking these questions you may work out that your smaller clients are less profitable.
You might also find that customers who run B2B service businesses are the ones that find your knowledge in their sector most valuable, and therefore are the ones who wouldn't consider looking elsewhere.
You may decide that B2B service businesses are your target market. Now you can target them effectively.
If your business is new, don't panic. It's fine to kick off with something that is loosely targeted. In fact, it would be silly to go highly targeted at this early stage until you have tested the market.
Just be prepared to revisit this question regularly over your first couple of years trading. Niching down is likely to help you grow your business, increase your website traffic and have longer-term loyal customers.
Revisit your content when your niche becomes more defined
Your target customer will change over time, and that is normal. Your business might grow and look to serve larger businesses, or new opportunities might open up.
When this happens, you need to revisit your content and update it to make sure it speaks to your niche. Your website is the obvious place to start, and this could be a full re-write, a new product page or landing pages for different niches.
Blogs can be a brilliant tool to help you break in to new niches. Writing content heavily targeted at the pain points of this target audience makes sense. If you can write articles for industry publications, that's another win.
Don't forget your social profiles and any listings. These too need to be updated to make sure they speak to your audience.
On-site SEO is the process of optimising your website for search engine traffic. It helps search engines find you and rank you for the correct search terms and keywords.
Before going off and attempting any off-site SEO, it's worth getting your house (or website) in order first.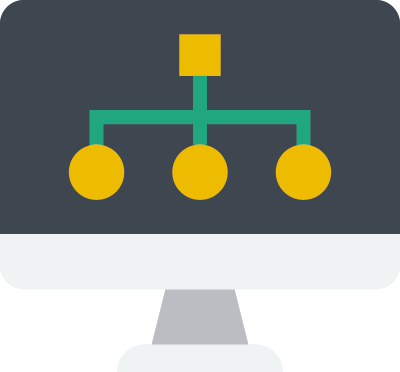 Andrew Cock-Starkey, the man behind Cambridge SEO consultancy Optimisey, shares his top tips for on-site SEO.
'On-site' is a great way to get started thinking about search engine optimisation (SEO).
Everything in on-site is literally within your control. It's all about things on your website.
URLs
Universal Resource Locator or 'the bit you type in your browser to get to a web page'.
The key here is to get keywords you want to target into your page as early as possible and the URL is the first bit search engines look at.
yourwebsite.com/blog/post-56882 – not so great.

yourwebsite.com/blog/how-to-do-onsite-seo – better.
Page Titles
This is the next bit search engines look at for clues as to what your page is about.
Again, get your target keywords in here. Research your audience. Do more of them search for 'search engine optimisation' or 'SEO'?
Remember, audience first, search engines second. Write titles that make sense to readers: 'Pizza in Cambridge's best pizza for cheap pizza Cambridgeshire' is bordering on unreadable. Don't do that.
Meta descriptions
When you (or more importantly your users) see a search result the meta description is the bit they see in the black paragraph text (notably, below the Page Title and URL!).

Meta descriptions
do not directly impact ranking
– e.g. Google doesn't factor them into their algorithms.
However, they will impact your SEO. It's your chance to 'sell' to your customers before they're even on your website. Convince them to click. Show them you're what they're looking for.
When they do click on your page that does factor into rankings.
Ultimately search engines want to help people find a good answer to what they're looking for. If people are clicking on your website when it shows in results the search engines will factor that into where they rank you.
Make your meta descriptions honest, engaging and impactful.
Headings
Headings are the bits you use to chunk up your content. I've done it here with the heading 'Headings' for example.
Again, the principal aim is making things better for users. Make your pieces readable and scan-able.
Search engines will use them as another clue to what your content is about. Make them relevant and related to keywords your targeting.
They're a great way to target the increasing number of questions people ask via search engines (think "Hey Alexa…" or "OK Google…"). Put your target question in a heading and then answer it promptly beneath that heading.
Again, I've done it here. Scroll back up to the "What's included in on-site SEO?" heading. Bingo.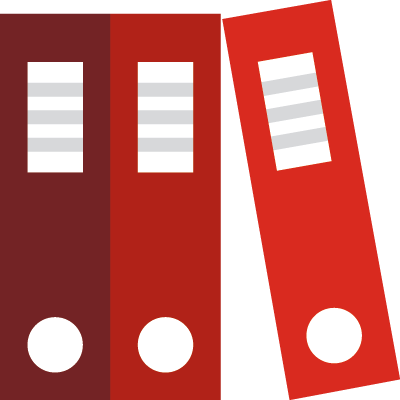 Content
Now comes the content. Despite what people say about its regal status – look how far down it comes in terms of consideration for on-site SEO. Every king or queen needs a castle.
Again, good keyword research is important here. Make your content clear. Use headings, bullet points and lists which make your content more useful to your audience.
Images
A picture says a thousand words… 'but only if it's got good alt-text' is the SEO addition to that famous saying!
Lots to do to optimise images. So much I even wrote a whole blog post about it: How to optimise your images for SEO.
Basic things to consider:
File names: image2378.jpg not good colour-photo-of-hilarious-cat.png is better
Alt-text: the way that search engines 'see' what is in an image – make it descriptive, as if you were describing the picture to a blind person… because alt-text is used for that too!
File size: make it as small as you can get away with. Don't upload it at 1000×1000 pixels if you then use it on your page at 100×100 pixels
Sitemaps and robots.txt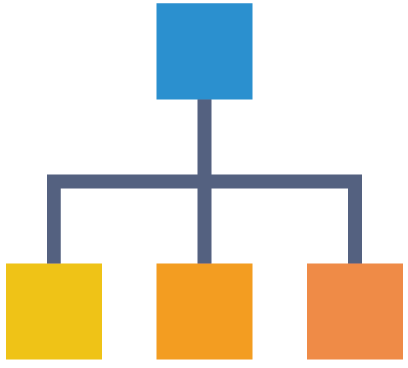 The web is big. Even search engines have a hard time finding their way around. A good sitemap can help them no end. Search engines lap them up.
If you haven't got a good sitemap (or sitemaps) get one. If you're unsure how, talk to a good developer say… Kabo Creative?
Robots.txt fits into this field too. Getting it right can take a bit of technical know-how. Getting it wrong can be really quite damaging so careful now.
Page speed
As with image file sizes above, faster is better.
We've all been there waiting for an agonisingly slow page to download… and clicking away in frustration. Don't let that be your website.
Your ballpark is three seconds. You want to be under that. Use a site like GTmetrix.com to check your pages or Google's Page Speed Insights. They'll give you insights into how you can make your pages faster.
Rich text mark-up
Last, bonus track for those of you still reading. Look into rich text mark-up. Schema is probably the most well-known of these.
There are schema for almost everything – there's even one for public loos. You can mark-up crucial information like the address; opening hours; amenities; even reviews.
You can (and should) use schema to mark-up your site. Help the search engines find the salient information like your address; contact details; product names; prices etc.
Search engines are going big on rich text mark-up. They're going to go bigger. If you've done all of the above getting schema into your site can give you a real edge.
My favourite SEO tool
If all this sounds like a lot of work, it can be. Good news is there are lots of tools that can help.
Like Kabo, my SEO tool of choice is SEMrush.
It can help you find all those gaps and missing bits on your site which will hold it back but also help you research which keywords your audience use; scope out your competitors and much more.
You can try it, risk and credit card free for a week. This is my affiliate link (which means if you end up buying it I get a kickback).
I'm pretty confident you'll like it. I use it every day. It's an essential part of my SEO toolkit.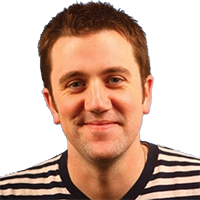 Andrew Cock-Starkey
Andrew Cock-Starkey runs Optimisey, a Cambridge based meet up for all those that have ever wondered (or been asked) "How do I get to the top of Google?"
You can grab a free ticket to an SEO event or find him sharing his SEO knowledge @optimisey on Twitter.
Chapter 4:
Be helpful on the right social media platforms
Notice the helpful in the title. Social media is not a place you can magically go to, shout about your amazing product/service and watch the customers flood in. It just doesn't work that way.
Similar to in-person networking, social media is a place you can meet people and find mutual interests.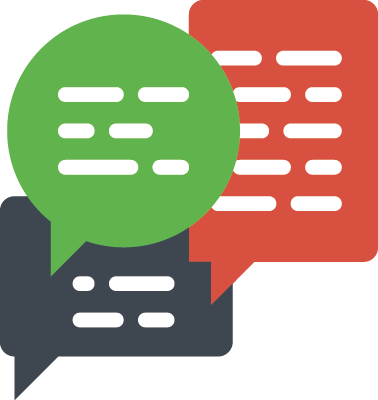 Content marketing and social media are closely related, and social really can be the fuel in the fire. But it won't work if you simply broadcast your content continually. You need to engage, converse and build relationships.
Do it right, and social can deliver regular website traffic, spread your brand awareness and even result in some lovely referrals.
Which social media platform should I choose?
A recent article by Hootsuite described the ten different types of social media available to marketers today, listing 29 different platforms. No brand has the time, or the inclination, to use all of these. So how can you work out which platforms are right for your business?
It all comes down to who you are targeting, and what your aim is. If you are a B2B service provider, you'll most likely want to look at LinkedIn and Twitter, while a B2C consumer product might find a better home on Instagram and Pinterest.
Taking a look at your competitors, and where they have the most engagement can help inform this decision. However, don't discount a platform that isn't being used by the competition – this could be an opportunity for you to break in to an untapped audience.
Whichever platforms you choose, pick a small number and learn how they work. Then measure the success using Google Analytics. If you are spending a lot of time and seeing little results, it might be time to try a different platform.
As we typically design websites and support clients in lead generating markets we'll take a closer look at the platforms we most often recommend.
Twitter
No clever algorithm games here, post a tweet, hope it takes off and then it's gone. While the internet debates if it will continue to be relevant, we still find significant website traffic can be found on this platform across many industries.
You'll want a regular posting strategy to make the most of twitter. It's also worth spending some time researching popular hashtags and looking for industry twitter chats.
Journalists tend to hang out on Twitter, and it can be a brilliant opportunity to pick up some press coverage. Take a look at the #journorequest hashtag for a chance to pitch your business to the top publications.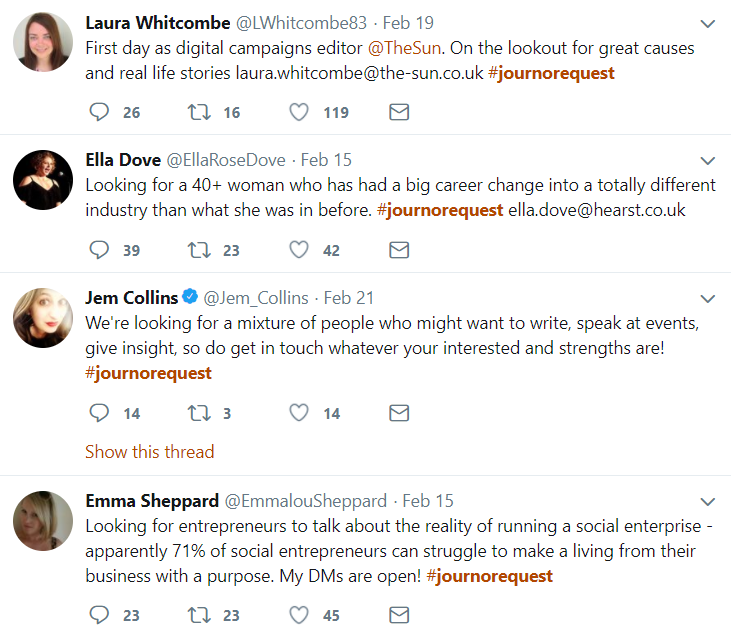 LinkedIn
45% of people earning over £75,000 spend time on LinkedIn, and it's not just a place for recruiters to headhunt. If you are serious about B2B, it's a great place to build up your company brand.
The LinkedIn algorithm is a closely guarded secret, but from testing it appears that personal profiles get the opportunity for more reach on the platform. Knowing this, you should aim to build both your personal profile connections and your business page followers.
Including links that lead you away from LinkedIn can reduce the reach of a post, so personal posts can be heavily text and image based to generate interest. The aim is to generate enough interest that people click through to your personal profile and either visit your company website from there, or click through to your company page.
Questions can work well with your audience, such as this post which generated well over 4000 impressions:
Try to build an engaged audience. Comments and likes on company page posts can expand reach exponentially. For one of our clients we've seen reach of over 35,000 impressions, which resulted in over 100 click through's to their website in one day.

Facebook
There is no doubt that Facebook is the leader in terms of number of users, number of active users and engagement. Regardless of who your target audience is, there is a very good chance at least some of them are on Facebook.
However, getting your company page posts seen by Facebook users is a challenge. As shown in the research by social@Oglivy, you'll be lucky if 6% of your fans see your post.
Your Facebook strategy should be determined by your audience and how they want to interact with you. As it is such as dominant social platform, you should at the very least get a company page to reserve your brand handle.
Some brands will find customers naturally want to ask them questions and interact here. If that's the case, you'll want to post regularly so your page is engaging when a visitor comes through to it. If it isn't, then try to keep it semi-regularly updated for the odd visitor that finds it.
Facebook can also be a brilliant place to collect customer reviews. While you may not get heaps of engagement, you may find that potential buyers check out your Facebook page while deciding if they want to purchase from you. Recent content and strong reviews can only help this process.
Chapter 5
Blogging for your customer's pain points
Having a great website, with good product or service pages and a healthy about page are all useful things. When a potential customer is seriously considering you, these are the pages they will be checking out.
But what about brand awareness, and the earlier stages of the sales funnel? That's where blogging comes in.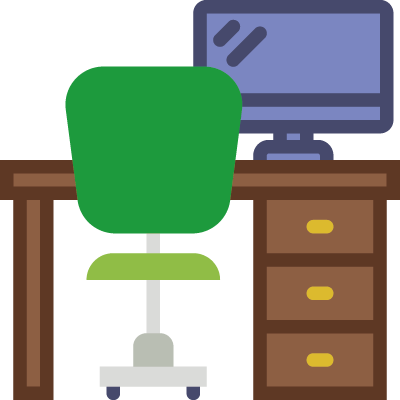 Having a blog area on your site, filled with content that's relevant to the wants and needs of your target audience, can help you to gain valuable website visitors that aren't immediately ready to purchase.
Not convinced? This should do it:
"Websites with a blog tend to have 434% more indexed pages in search engines" Source
"47% of buyers viewed 3-5 pieces of content before engaging with a sales person" Source
"B2B marketers that use blogs get 67% more leads than those that do not" Source
"53% of marketers say blogging is their top content marketing priority" Source
"Companies who blog receive 97% more links to their website" Source
Pain points and search traffic
You should have a sweet spot to blog in. As a business, you exist to solve a problem. You need to get in to that frame of mind to find the right blog topics for your business website.
If you were a plasterer, you do not exist to 'do plastering jobs'. You exist to:
Make a room ready for decorating
Help housebuilders complete a stage in their project
Fix badly done or DIY repair jobs
Make external walls weather proof
Now you have a wider range of topics that are more likely to match what people earlier in the buying cycle are likely to search for. They speak to the pain points of potential customers, possibly before it has occurred to them that they need to hire a plasterer.
Once they've read your article, done their research and spoken with friends and family, they are much more likely to contact you rather then another supplier as you've already provided value.
Long tail keywords
Long tail keywords are a search term that's made up of three or more words. Once you have an idea of blog topics that make sense for your audience, a little keyword research can make the difference between a blog that flops and a blog that soars.
Unless you have a high-ranking website, it is very unlikely you'll show up on page one of search results for a blog with a competitive keyword as its title. Instead you can target multiple long tail keywords. Combined, this can bring significant search traffic to your website.
Using a keyword research tool, you can check search volumes for phrases that fit your customer pain points. When you find a long tail phrase that has a search volume of around 170 or less per month, you are in the sweet spot.
Using our preferred research tool, SEMrush, we've searched for a simple phrase 'plasterer'. The phrase match report then lists related keywords with their monthly search volume.

Good blog topics for a plasterer's website using long tail phrases would be:
Can you paint straight onto plaster?
Why would you use Vitcas heat resistant plaster?
How to prepare walls for plastering
How to plaster over artex
Write a blog with that phrase used as the H1 tag, and similar words used throughout the copy, but not in a spammy way. Google hates that. It needs to read well and be useful to the reader.
Follow this strategy and you'll inevitably find your organic search traffic starts to increase, which in turn will help your key product pages do better too.
Bonus chapter
What to do next
It may be a lot of work, but having a working website with a targeted content strategy, respect for SEO and for building relationships on social media will set you up for long term success.
Once you have these essentials set up and working, you can move on to other ways to grow your website traffic. Here are a few ideas.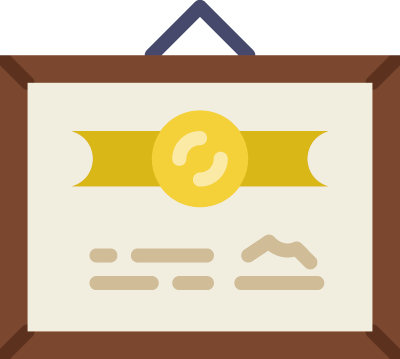 1. Go to relevant events
Take your business cards and go find relevant events near you. Based near Cambridge, we've been overwhelmed by the number of high quality (and free) events hosted on meetup.com.
Find some that look interesting to you, go along, and be friendly. Don't pitch your services and thrust your card in to every hand you can find! Build connections, connect with them on social, and over time you'll find the referrals pour in.
2. Set up email marketing
Almost all digital marketing channels are owned by someone else. Building a social following is great, but if that platform goes belly up you'll have lost all of your hard work overnight.
Building your own email list is a following you own. It's precious. When your content strategy is running like a well oiled machine, get an email marketing solution and offer a sign up so your loyal readers can hear more from you.
3. Pay for traffic
This is pretty low down on our list, as we often see businesses spending lots of money on PPC (pay-per-click) advertising to a website that isn't converting and watching their money go down the drain.
If you decide to try advertising, do it in a measured and controlled way. Test, measure, improve. Adwords is one option, but there's a wealth of others to try too. We recommend Facebook, LinkedIn and Quora.
One suggestion that can work really well is to try out remarketing. Don't just spam everyone that ever visits your site. You could remarket to people who visited your key product page, or a pricing page. Again – test, measure, improve.
4. Join industry or local organisations
Want to scale up? Get the support of industry bodies or local organisations behind you. By joining you'll often appear in their directory of member organisations, and be able to reach their audiences.
There might also be opportunities for advertising, guest blogging or featuring in their member emails. Just be prepared to pay for the exposure!
5. Build backlinks
Tread carefully here. A no-nonsense, completely honest, statement: you need backlinks to your website if you want to rank well in search.
Some businesses will outrank you currently because they are employing black or grey hat strategies, such as using PBN's, buying links, and other methods.
Others will build links organically, by writing guest posts, reaching out to webmasters about broken links and using email outreach to promote their content.
If you run headfirst in to backlink building without a strong understanding of the rules of the game, you could end up doing more damage than good. You need to go do your research, or hire someone who gets it.
You, and only you, can decide your own attitude to risk. Fast results can be achieved using black hat methods, but you run the risk of being obliterated by a manual penalty or an algorithm update.
Slower growth can be frustrating using white hat methods, and costly, but you can rest easy that you are unlikely to fall victim to a penalty. As a business owner, only you can make that decision.
What next?
Need a website designer that 'gets' it?
We hope this bumper guide to building website traffic has helped you to map out the process to generate valuable leads for your business.
If your next step is to get a website that works, we'd love to get involved. Fill out the form and we'll be in touch.