CangguFit
Website Design | Branding | Photography
Challenge
CangguFit are a fitness retreat based in exotic Canggu, Bali. They offer a hassle-free 8 day experience to fitness enthusiasts looking to combine improving their fitness with a luxurious holiday.
With their villa building project coming to an end and relationships built with the best CrossFit boxes and and fitness establishments in the area; it was time for them to establish a brand and get online.
Having not managed a website, or a brand before, the CangguFit team needed assistance on understanding what mattered, why and how to get it done.
Experts in all things fitness and what it takes to create a luxury holiday, the Kabo team pulled on CangguFit's experience to create something as epic as their retreats.
Results
Unlike the larger retreat companies hosting at hotels or multiple villas, the CangguFit offering is exclusive with its' maximum of eight guests, and is available year-round for guests to book.
The brand identity needed to reflect their luxury appeal and this unique aspect of what made them different. 
Kabo's graphic designer led with a series of photoshoots and interviews with the CangguFit team at their luxury villa. She then produced a logo and colour palette influenced heavily by the villa's modern design and colour scheme.
Kabo Creative's website developer then followed suit with a minimalist website unique in their market.
Creating a Brand
Minimalist chic for a luxury market
Starting with a naming workshop, the Kabo team worked closely with CangguFit to name and develop their brand. Influences were sourced from the luxury modern villa they had created.
Kabo's designer used the villa influence and combined it with research in to the local fitness market, retreat industry and Balinese influences.
The CangguFit brand identity resulted in a modern and minimalist style logo, with a nod to the famous Mount Agung. Brand colours reflect the colours found within the villa walls.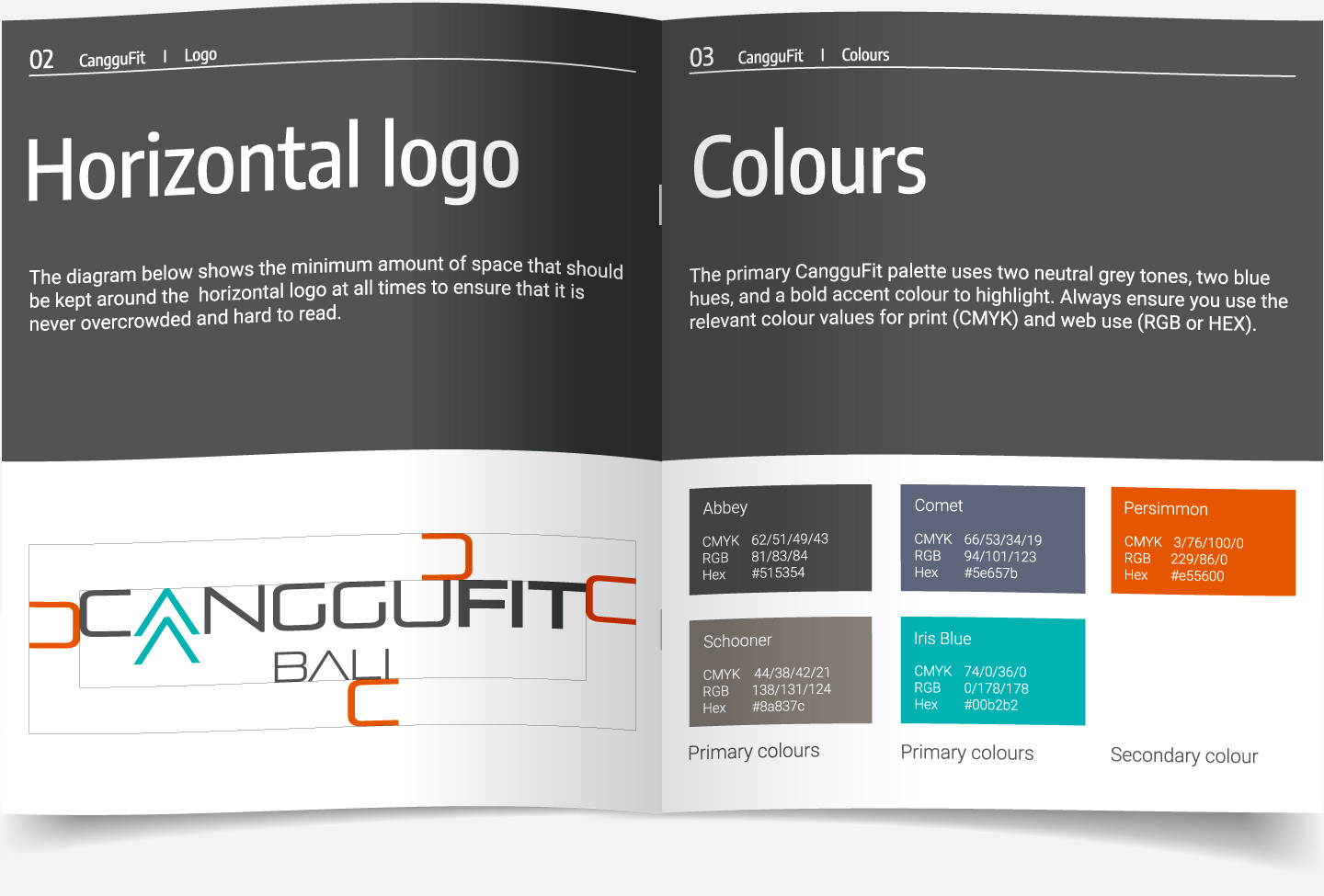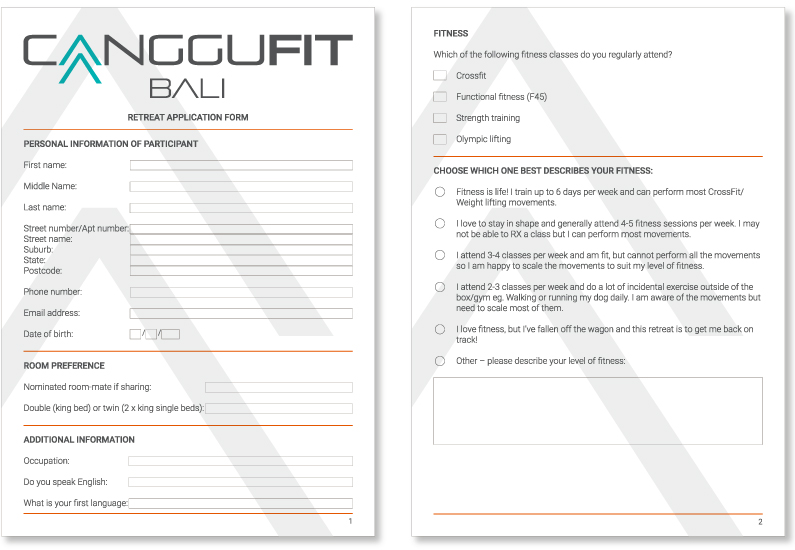 Graphic Design & Copywriting
Completing the customer journey
While the website provides everything a potential customer needs to book a retreat, there's more to the customer journey.
The CangguFit team utilised our design services for a series of digital PDFs to collect guest information and e-signatures prior to their arrival for the retreat.
It was important this content reflected the brand with a premium feel. Kabo's in-house designer created something visually attractive and provided copywriting services to ensure everything was on brand.
"Putting together a website is a daunting task but Penni and Jo made our whole experience so easy.
From logo design to copywriting and content we are incredibly happy with the end product. Support and training beyond the website going live has been informing and educational too.
We highly recommend Penni and Jo and would not hesitate to use them for further projects."
Rebecca Solomon
CangguFit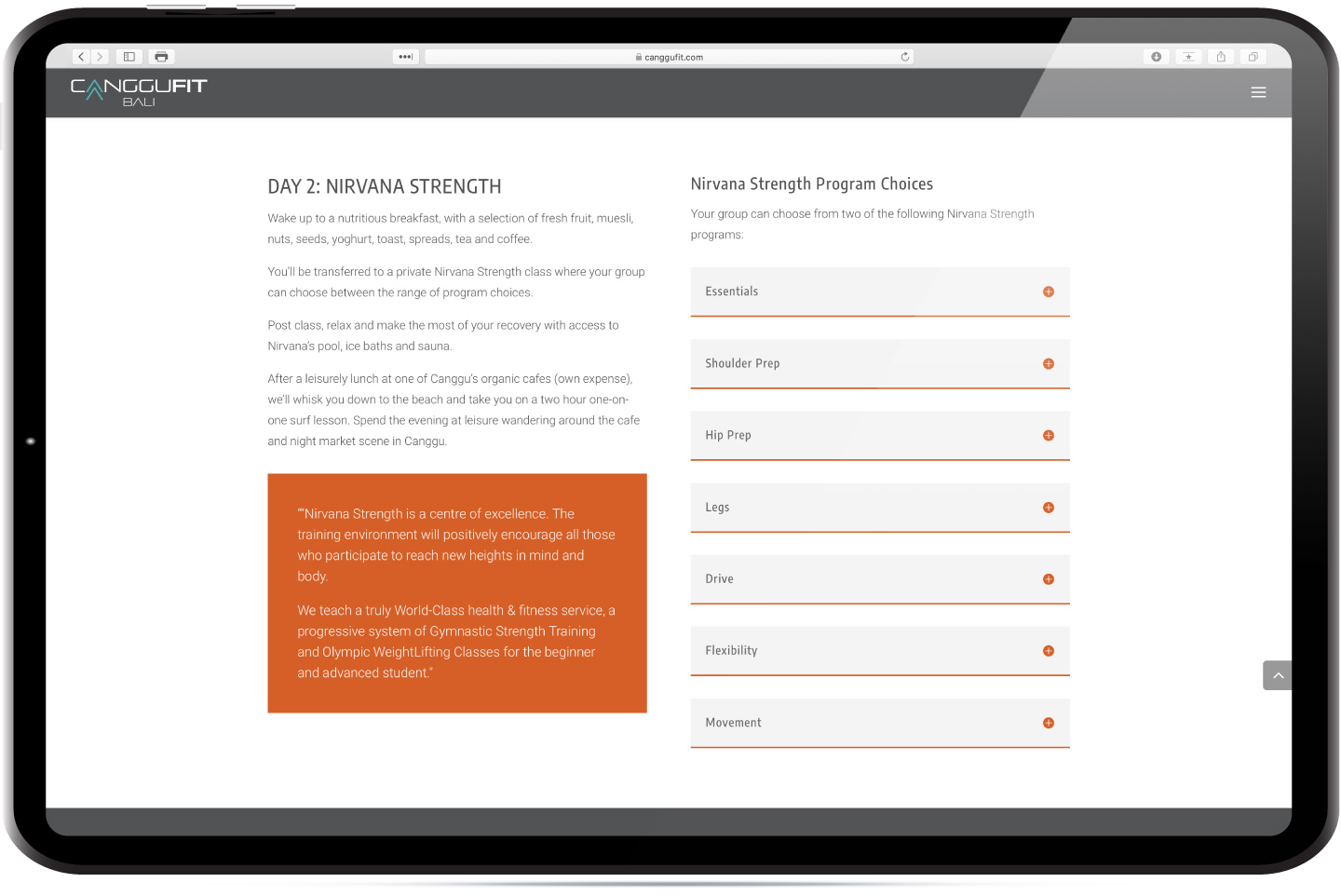 Website Design
A full package solution
The CangguFit team wanted a website that reflected their luxury service in appearance and was easy for them to manage in-house. Working from the brand guidelines, Kabo's website developer worked closely with CangguFit specifying the website structure and content.
Full copywriting was provided to match the tone, and Kabo's graphic designer offered insight on how best to reflect the new brand.
The result is a clean, modern and high performing website, that after a little training is completely managed in-house by the CangguFit team.
The project was completed with on-page SEO, and configuration of Google Analytics and Search Console.
Have a project?
Let's work together