Stand out from the crowd with a recognisable logo and brand identity
Does your branding leave an impression?
Weak branding gets forgotten. But when prospects see great branding, they'll remember you as someone they can trust.
That's why Jo, our branding specialist, creates a brand identity your customers will remember.
And, as one of our two-woman team, you won't have to muddle through middlemen and laborious processes to get your new brand identity. Jo will work directly with you to create a memorable brand identity that everyone trusts.
"Kabo Creative are everything that you want from a website and design agency. The dynamic duo are wonderful to work with. They are knowledgable, professional and our trusted partner. They assisted us with our rebranding and the process from start to finish was seamless."
Karl Chatterjee
Co-Founder, WNTD
A brand is a combination of a number of assets. Some are obvious, like a logo. Others are less so, like a colour palette. But they're all vital in making a consistent brand that promises your prospects you're who they want you to be.
As part of your branding project, we'll design and create these assets for you. Already have some of them sorted? No problem; we can design brand assets that perfectly mesh with what you already have.
Each asset will be created to look great in print or online; your brand needs to look great everywhere! And they'll be accompanied by guidelines to help you make the best use of them to help you attract new customers.
Logo
Your logo is a core part of your brand identity, so it needs to do more than just look good. We'll design a logo that exemplifies who you are, stands out, and speaks to your target audience.
Colour palette
The colours your business uses can make you seem creative, exciting, trustworthy, or safe. We'll put together a colour palette that sends the right message for you.
Typography
The font you use speaks volumes. Imagine if HMRC used Comic Sans, or if a bouncy castle business used Impact. We'll find the right font to tell the world who you are.
Illustrations & iconography
A picture is worth a thousand words, and the wrong picture needs a thousand words to explain it. We'll use illustrations and iconography that perfectly suit your style.
Social media templates
Whether you're on every platform going or just a select few, we'll get you set up with templates and toolkits that take the hassle out of social posting.
Brand identity guidelines
And what do you do with all these assets when you have them? How do you make sure your brand is being properly portrayed everywhere your audience finds it? And what happens when you forget the hex code for one of your brand colours?
Your brand identity guidelines have all the answers. We'll outline how best to use your brand assets (and what they are) so you'll always know how to best create a consistent experience for your audience.
How do I get an outstanding brand identity?
"Jo is great! Unlike other designers I have spoken to she really takes the time to get to know the client and their business.
The logo she created for me is AMAZING but more importantly it was designed with my business needs in mind. I can whole heartily recommend Kabo."
Charlie Hart
Charlie Hart Fitness
Let's talk
We love a chat with a new customer! So we like to spend 30-60 minutes on a video call to learn more about what you do and what you need.
We listen
You can't create a great brand without a deep understanding of the business behind it. So we take the time to find out more about your business, your customers, who you want to attract to the business (and who you don't!).
Jo uses all of this information to help build a brand identity that perfectly matches what you do. It also has the added benefit of reassuring you we fully understand the project!
Proposal
Once we've got all the information we need, we'll send you a proposal that details exactly what we'll do for you and how much it will cost.
Design
Once the paperwork is out of the way, Jo gets to work designing your visual identity. We'll provide up to three concepts for you to review, and then listen to your feedback. We'll tweak your chosen concept, listen to your feedback again, tweak some more and so on until everything is just right.
Delivery
This is the best bit of the process. We'll send you all your shiny new brand assets, ready to unleash upon the world! You'll get your logos and design assets in all the file formats you need, so you can use them wherever you need to.
We'll also send you a brand style guide, which shows you (and any future suppliers) how to use your brand assets to make your brand look consistently good anywhere and everywhere!
The legal bits
Finally (and really importantly!) we'll hand over the IP to your logo so you own the critical brand asset underpinning your entire visual identity!
We've delivered everything in all the file formats, ready to be used everywhere. But you need help. Your new campaign requires a helping hand, or a brand asset needs adjusting for a print campaign.
But you won't need to ask a new designer to take on work they're not familiar with. We'll be ready to support you, keeping your brand assets up-to-date as well as supporting any day-to-day design needs you might have.
From brochures to flyers, business cards to social media templates, Jo can handle anything you throw at her. Your familiarity with her and her familiarity with your brand identity means you'll find it quicker and easier to ask Jo to handle your design needs than to bring someone new onboard.
"Awesome. These guys are the best. Caring, attentive, patient and bloody talented.
Thank you so much. x"
Michael Harvey
Sales & Lettings Director, Harvey Robinson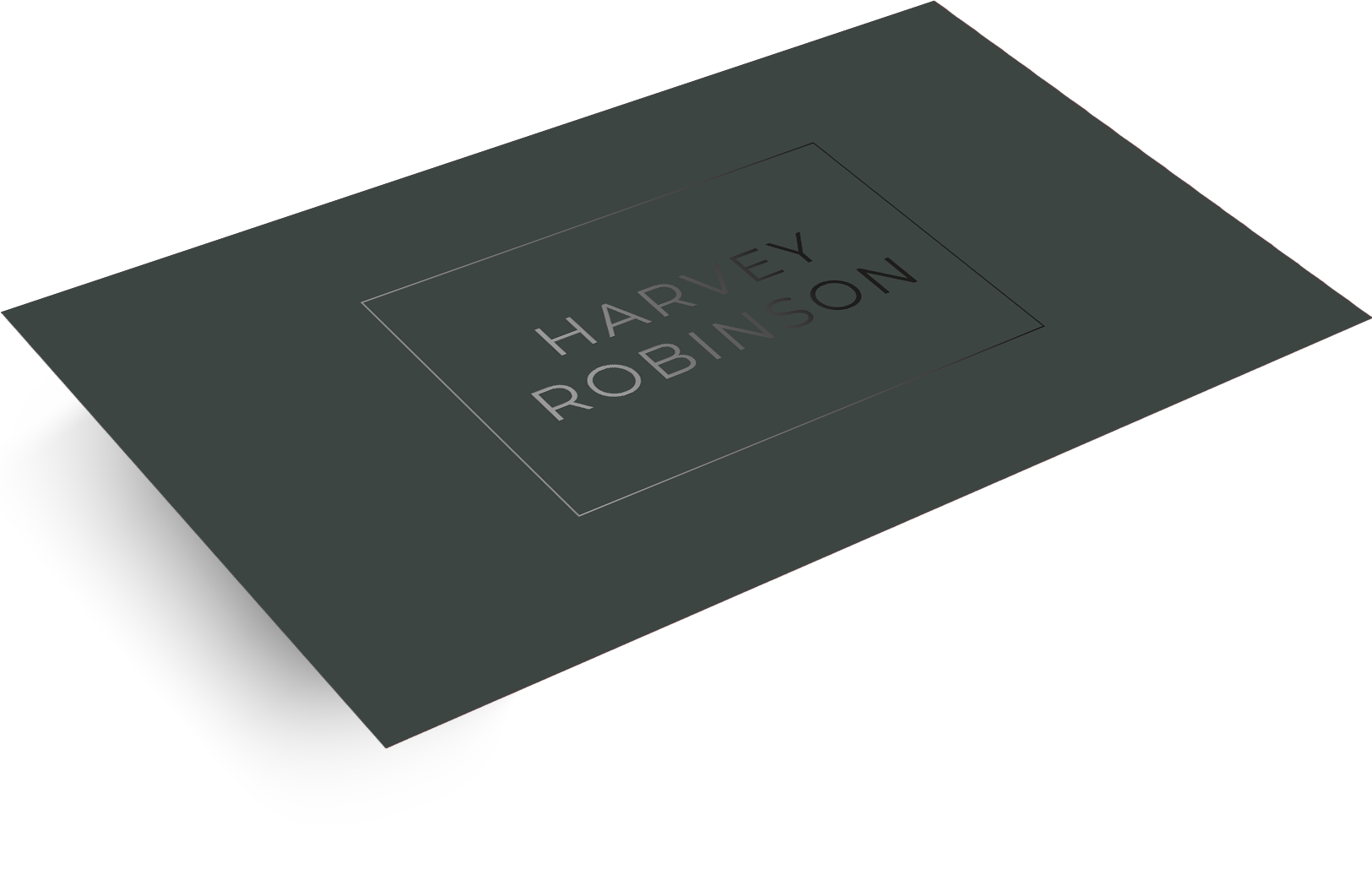 Our clients ask questions. We love to answer them.
From "how long will my branding project take?" to "what's an AI file?", we're always happy to answer any question you might have (none of them are daft!)
Here are some of the ones we answer most often. But if you have a question that's not listed here, don't hesitate to contact us. We're always happy to help!
How long will my branding project take?
This can vary based on the size and complexity of the project. An average branding project can take 8 weeks. Naturally, more complex jobs can take more time! Things that can impact the length of the project include:
The scope of work to be done
How quickly our client can provide feedback
The number of revisions
The easiest way to find out how long your branding project will take is to ask us! Get in touch and we can give you a personalised estimate.
What files will I get?
We'll provide all of the files you need to use your brand, including:
AI for future file type exporting
EPS for compatibility
PDF for print
SVG for your website
PNG for general online use
JPEG for those times a third party can't accept any other files type
Who do you work with?
We love working across different industries, and have a wide ranging portfolio from financial services to visitor attractions and lots in-between.
We tend to work with businesses that either:
Have marketing teams of 1 – 5 people;
Are established owner-operated, or;
Are startups with a clear plan and a little funding in the bank.
How much will it cost?
We will build you a full brand identity from £2,500 (exc. VAT).
Of course, complex projects that need a large number of assets tend to cost more.
The truth is that every project is different, so the only way to know for sure how much it will cost is to tell us about it!
For ongoing support we work with our clients on an hourly rate basis. Our hourly rate is £55/hr (exc. VAT).
I don't need a full rebrand. Can you refresh my brand instead?
Of course. Sometimes a full rebrand isn't necessary, but a brand needs a modern update. Or perhaps it needs a tweak to better fit a new business direction or the changing needs of your customers. Whatever the reason, we'll make sure your branding stands out and attracts new customers while retaining your core, recognisable identity.
Why do I need brand identity guidelines?
All of your brand assets work together to create a consistent impression of your business. If someone uses the wrong font, colour, or improperly displays your logo, your brand suffers.
Brand identity guidelines help internal teams and external suppliers use your assets properly and consistently so that your brand stays consistent and always gives your audience the right impression of your business.
Who owns the copyright?
You do! All the final designs for your brand are yours. Once the project is complete and our invoice is paid, we'll transfer all the intellectual property rights to you.
We can't wait to hear from you
Whether you have some questions or you can't wait to get started, get in touch so we can have a chat about what you need from your new branding and how we can make that happen for you.