Charlie Hart Fitness
Website Design | Branding | Print
Challenge
Charlie Hart is a personal trainer based in Cambridgeshire. He has a wealth of experience helping people of all ages to improve their fitness, diet and ultimately, their lifestyles.
As his marketing improved, his brand identity and website were no longer fit for purpose. Instead, the brand identity needed to capitalise on Charlie as the knowledgeable character central to the brand offering.
Active on social media and in person networking, Charlie needed a full brand identity style guide that enabled him to build his own, on-brand, content. This needed to be supported by an easy to use website that he could continue to update and grow.
Results
The Kabo Creative team created a modern and clean brand identity, which deliberately highlights Charlie as the centre of the Charlie Hart Fitness brand. The website repeats this theme, showcasing Charlie, his knowledge and capabilities.
Clear brand identity guidelines were produced to ensure Charlie can easily create on brand content across social media and video platforms as he continues to expand his marketing. The website itself was produced on WordPress with relevant on-site SEO set up from day one to help target the local market.
Clear CTAs (calls to action) were created to entice sign ups for both personal training sessions and weekly boxfit group classes. Google Analytics, Search Console and Google My Business were all configured to provide a solid base set up.
Brand Identity
A brand for the future
When redesigning Charlie Hart's brand identity, the Kabo team weren't just creating a shiny new logo. The brand needed longevity and a clear set of guidelines to allow Charlie to create on-brand content.
The new logo, colour palette, fonts and recommended uses were specified in the brand identity style guide.
Charlie is now able to create any form of online or offline material that fits his brand identity. He also has clear guidelines to send over to designers, printers or anybody else he decides to use in the future.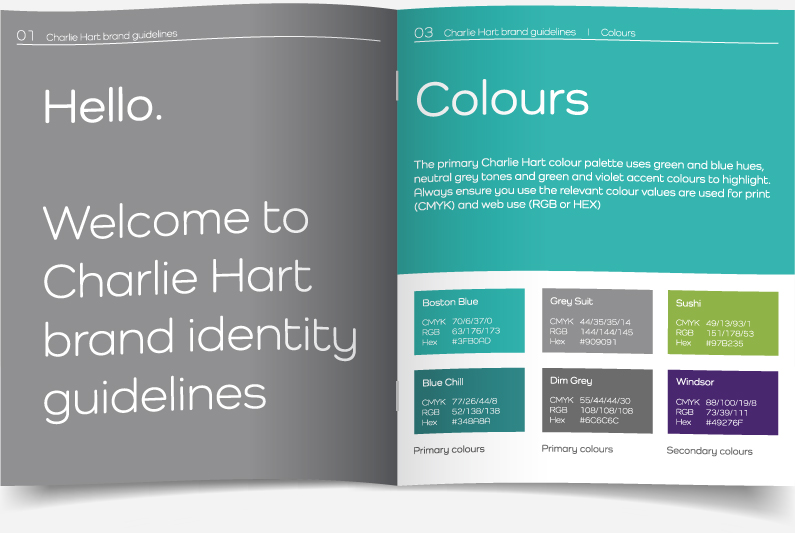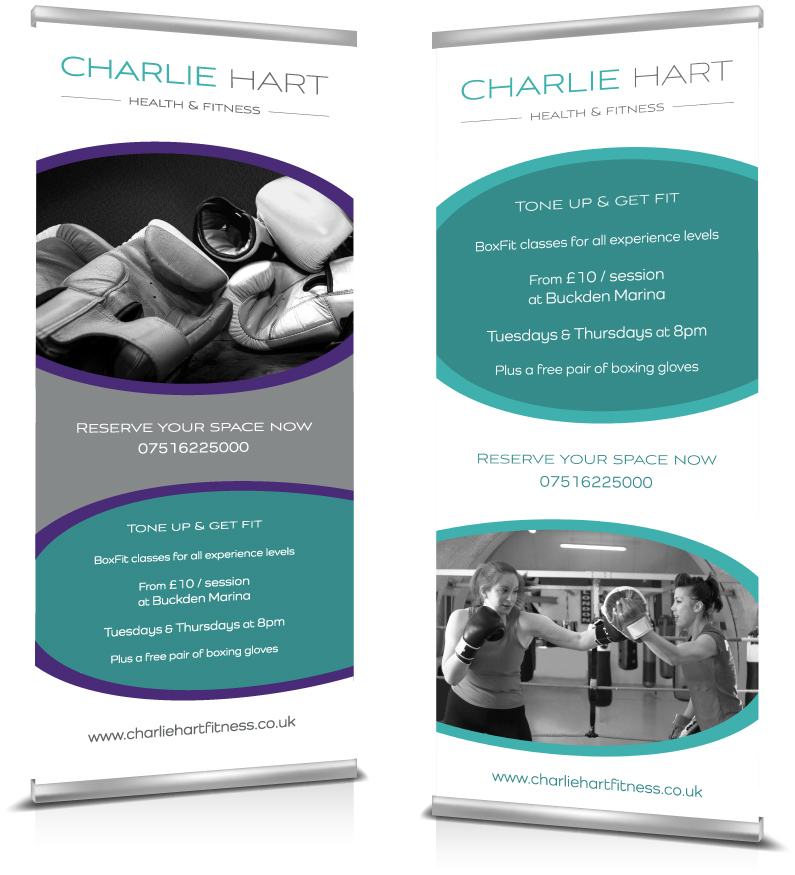 Print Design
Taking the brand offline
Branding doesn't just take place online. Once Charlie had signed off his new logo and brand identity, Kabo's graphic designer set to work providing print materials to help Charlie promote and grow his business.
First we created a clean t-shirt design and worked with his chosen print specialist to create branded t-shirts for him to wear during training sessions and promotional events.
Next we created promotional materials on a fast turnaround and had it delivered to him in time for a local event. Combining the services of Kabo's designer and marketer, the new print materials help Charlie to promote his BoxFit group training sessions at events.
"Jo is great! Unlike other designers I have spoken to she really takes the time to get to know the client and their business.
The logo she created for me is AMAZING but more importantly it was designed with my business needs in mind. I can whole heartily recommend Kabo."
Charlie Hart
Charlie Hart Fitness
Website Design
From Wix to WordPress
As a new business, Charlie had created a Wix website for his business and created a wealth of blog and video content. He used this content across social media platforms to begin to grow his brand online.
As his business had grown, his Wix website had begun to look outdated. It also limited the flexibility he needed to make the most of his content.
Making use of his new brand identity, the Kabo team designed a modern and fully responsive website. The new site featured:
Clear calls to action (CTAs)
An intuitive new resources section for his content
Customer reviews
What makes Charlie your ideal personal trainer
The Kabo team exported all of his Wix blog content and migrated it across to his new WordPress website. He had a library of quality video content that was both relevant for his audience and very on-topic for SEO keywords.
Charlie's Youtube videos were embedded within blog posts, and each post was transcribed for SEO benefit.
A customer reviews section has also been created within the website, to allow Charlie to collect more social proof from his happy clients.
Finally, Google Analytics was integrated to allow Charlie to measure the success of his various digital marketing efforts.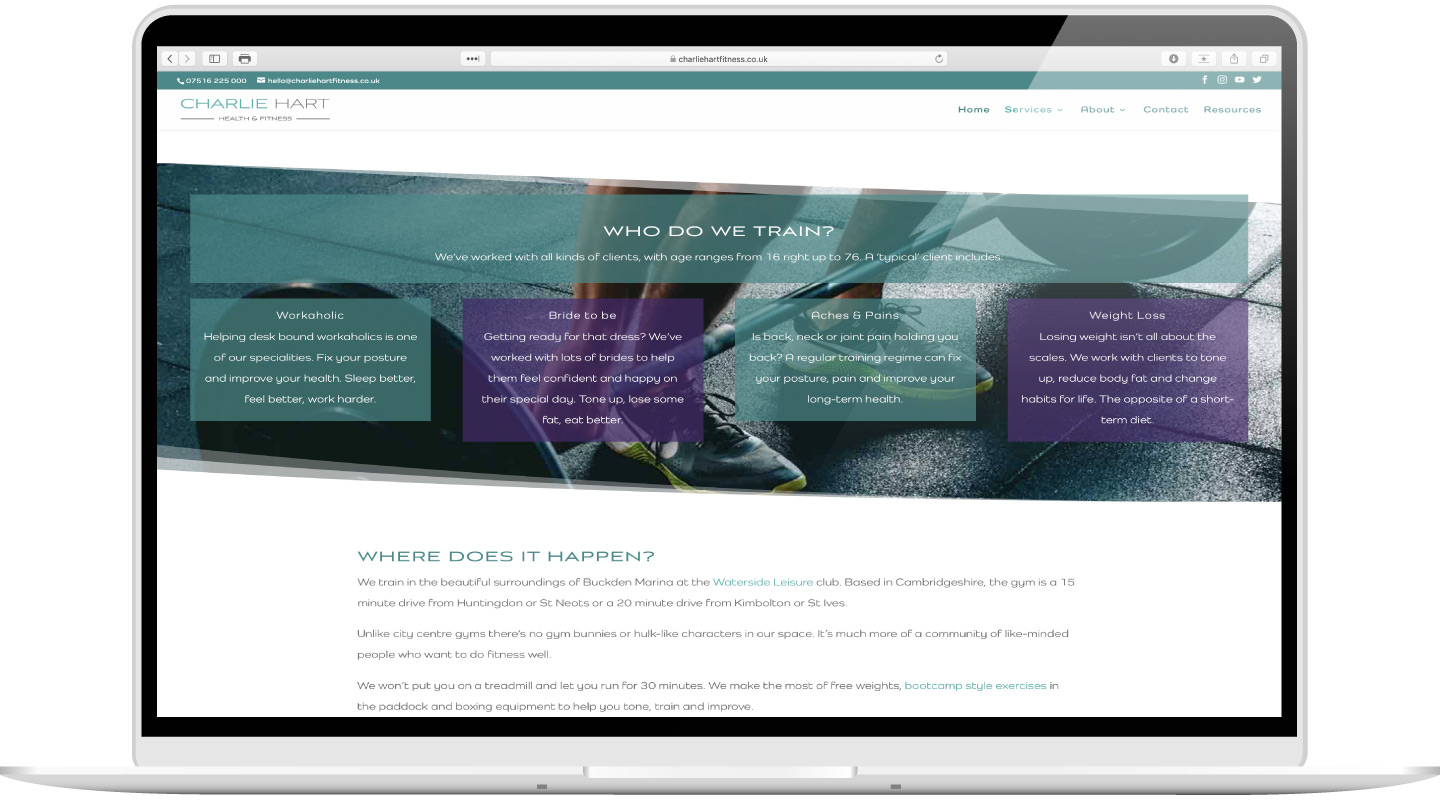 Copywriting
Creating copy that sells
Kabo Creative stepped in to create all copy for the website. To achieve a website that represented Charlie, the Kabo team interviewed him to work out who his perfect customer is and why they keep coming back to him. We even tried out his service and enjoyed his style so much we ended up becoming a customer.
Next we put in the research; in to his market, his competition and the SEO landscape. Then we got to work creating something in his brand style that hit the keywords and appealed to his target audience. Finally we set to work editing up his blog posts to make the most of his existing content.
Have a project?
Let's work together