Flowtec Engineering
Multilingual Website Design | Branding
Challenge
Flowtec Engineering are a German-based recruitment firm operating across Europe. They specialise in headhunting and recruitment services for highly skilled technical and engineering professionals.
The Flowtec team contacted Kabo Creative as they were setting up the international arm of their business, in need of a professional website and brand identity.
They challenged us to create:
a new brand identity to include fonts, colours and logo
a fully functional recruitment website with online job applications and easy back-end management for their in-house team
a fully multilingual solution
Results
An initial research project defined the market, and Kabo set to work designing a logo that was elegant in design and could appeal across multiple regions. The challenge was to appeal to both prospective candidates and companies looking to hire within the engineering and technical sectors across Europe.
Functionality testing began to specify a job application solution that was both easy to use for the candidate, and simple to manage for Flowtec Engineering's in-house team.
Once the website design and core job application functionality were approved, the complex task of creating the multinational functionality began. The new website was then translated from English to German, Dutch and French with continued support from the Kabo Creative team.
Multilingual website design
Manageable website translation
Creating a multilingual website can seem daunting. Decisions need to be made on language hosting in top level domains, subdomains or subfolders. Should all content get translated, or should some content only apply in certain languages?
Kabo's team worked closely with Flowtec's translation team to create a multilingual site that worked technically, met their brief and had a great user experience for website visitors.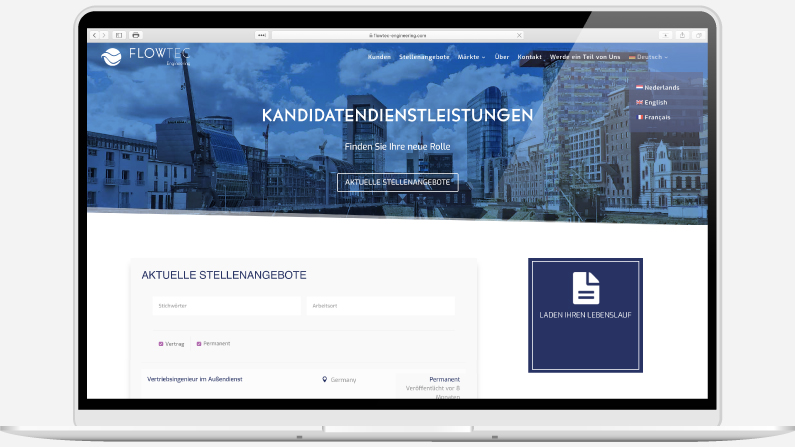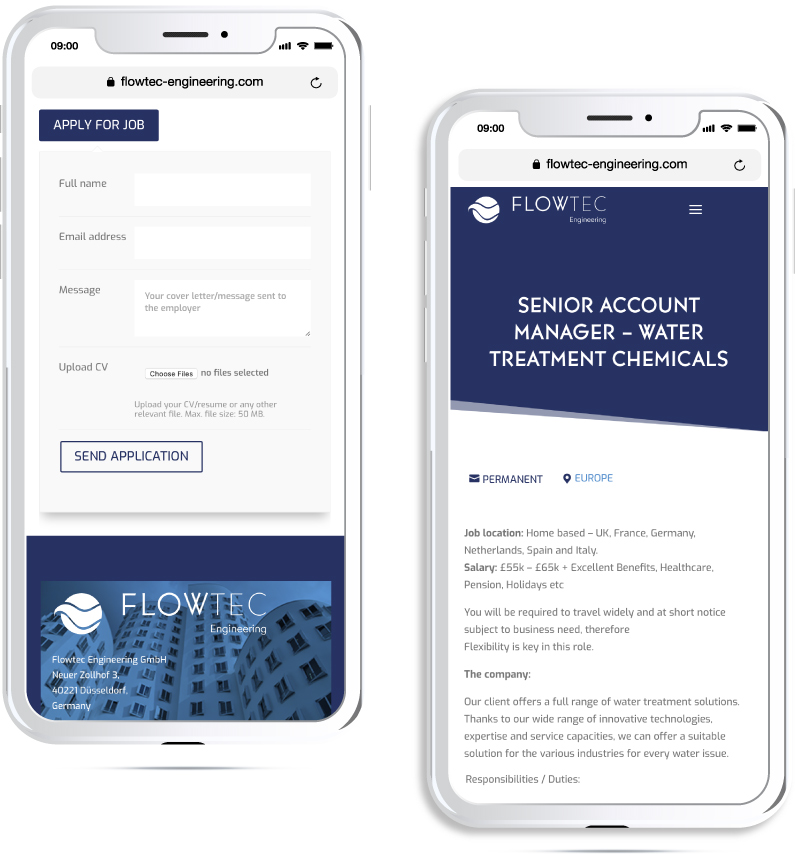 Website Development
Intuitive job application functionality
Based on their UK business, the client and the in-house team were already familiar with the functionality of a specific WordPress plugin, WP Job Manager. Flowtec Engineering were keen to use this same plugin on the new website, but with improved and expanded functionality.
New functionality included:
Ability to search by location, industry and role type
Direct application via a form within each job page
Custom CV upload functionality for quick and easy CV submission
Custom styling to differentiate from the default plugin style
Industry specific pages that display roles relevant to that industry
Brand Identity
Designing a sister brand
Having established their brand from a specialism in flow control job roles, the new Flowtec Engineering identity took inspiration from hydraulic, pneumatic, pump and valve engineering.
Designs included rework to their existing UK branch logo. A couple of revisions later and the new Flowtec Engineering logo was created, along with brand colour and font specifications.
The logo was supplied in colour, white (for placing over coloured backgrounds) and in a square format for use across social media platforms.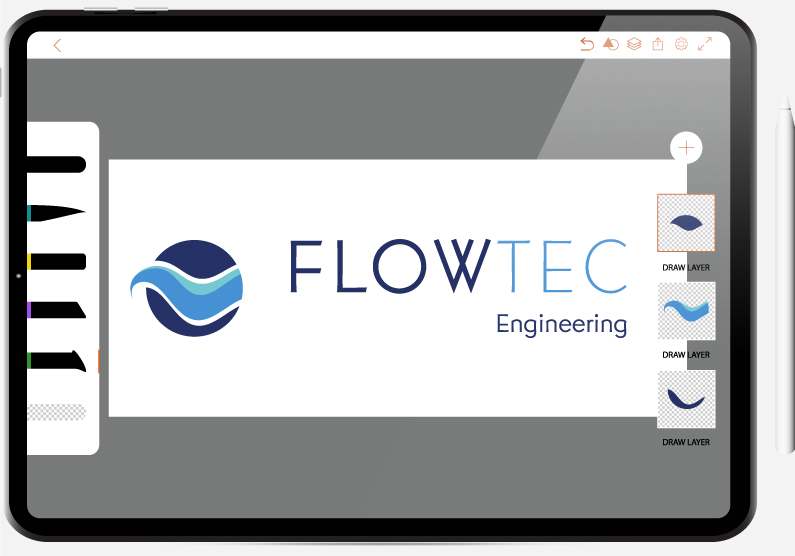 Have a project?
Let's work together