The Whole World or Nothing
WordPress Consultancy | Migration assistance
Challenge
James and Sarah McAlister are the full time travellers (and part time thrillseekers) behind the travel blog The Whole World or Nothing.
Aimed at couples interested in travelling on an affordable budget, their website provides tips and advice on travel and destinations. It's also their shop window to brand media collaborations and their Amazon Affiliate sales.
The Whole World or Nothing contacted Kabo Creative during their migration from their old Squarespace website to their new WordPress website.
James and Sarah had managed the majority of the migration themselves, but needed assistance with their last few challenges before they could launch their new website.
Results
The Whole World or Nothing's new WordPress website was using the popular page builder Divi by Elegant Themes.
Divi is a fantastic tool allowing huge amounts of customisation without needing to know CSS, Javascript or PHP. However, as with any website, anything beyond it's core capabilities requires custom development.
To achieve the additional functionality required, Kabo created a child theme to enable Amazon Affiliate integration in a custom page design. 
Kabo also provided consultancy with final tweaks of fonts, styling and code residue from their SquareSpace migration. All work was completed within one month from their original enquiry, helping them to launch their website quickly.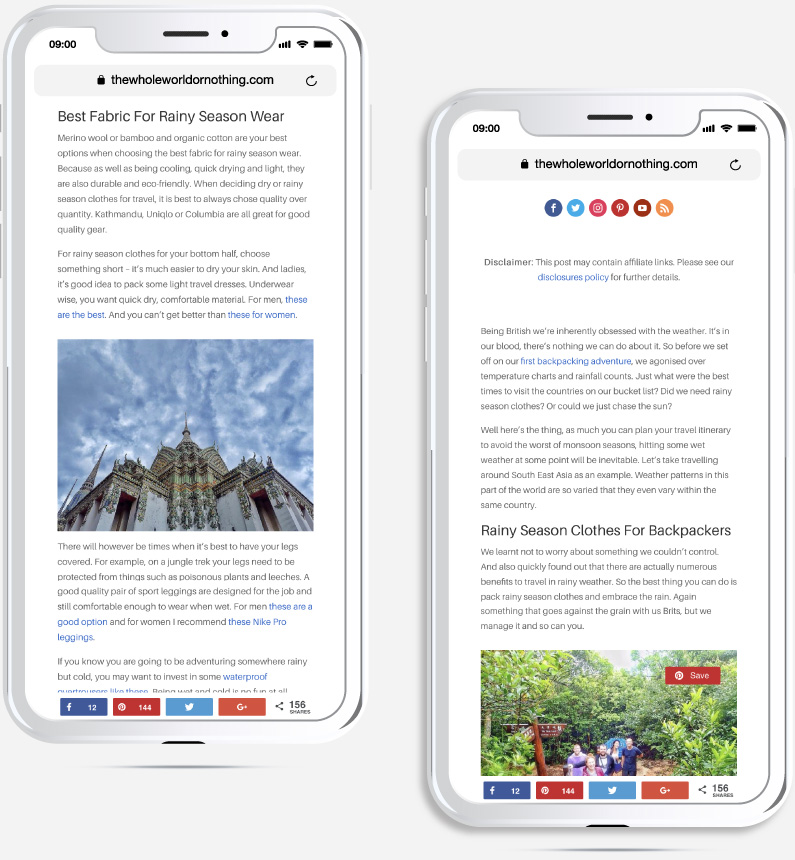 Blog Template Design
Instant styling across 100+ posts
The Whole World or Nothing website contained over 100 blog posts. Styling using the Divi editor would involve manually inputting and editing each and every post.
Instead Kabo designed a custom blog template which:
Automatically displays the featured image as a fullwidth header, including post title, author and date.
Displays a sidebar which can be edited without touching the child theme files.
Inputs a comments section at the bottom of each post.
Designed a related posts section, which displays recent posts within the same category as the current post.
Using the custom blog template, James and Sarah could migrate their blog content straight in to WordPress from SquareSpace and have all styling applied automatically.
"Kabo Creative recently helped us finish our new website & they were a dream to work with. We had a few technical issues that we were struggling to overcome with regards to building a customised page & blog template.
The entire process was smooth from start to finish. We had an initial consultation, the work was done quickly & we are very pleased with the finished product.
We'd highly recommend using Kabo Creative, they are definitely now our go to web designers."
James & Sarah McAlister
The Whole World or Nothing
Amazon Affiliate Integration
A travel bloggers' online shop window
A primary reason for the move from SquareSpace to WordPress, The Whole World or Nothing needed a page to promote their recommended products using the Amazon Affiliates program.
Combining the popular EasyAzon plugin with the standard editor in WordPress works like a dream. However they were unable to create the tabbed design they were looking for within the Divi Builder and still use the EasyAzon plugin.
Combining a new child theme with use of the Divi Library, we created:
A clean tabbed design on their Travel Gear page, in keeping with their existing website design and branding.
Editable individual sections per tab from the backend WordPress editor to allow easy use of the EasyAzon plugin without needing to edit child theme files.
Have a project?
Let's work together